'Trump and Kim Jong-Un's personal relationship is not enough to restore talks'
North Korea says US President Donald Trump and North Korean President Kim Jong-un's personal ties are not enough to resume nuclear talks. The North Korean statement has been issued by President Trump following a congratulatory message to Kim Jong-Un.
Kim Jong-Un, a North Korean Foreign Ministry adviser, says Kim Jong-Un might personally like Donald Trump, but because of these sentiments, he cannot lead his country.
He said that no negotiations would be possible until North Korean demands were approved. It should be noted that relations between the two countries have deteriorated in recent months.
Kim Jong-un and Trump had face-to-face talks in 2018 and last year their goal was to reduce nuclear weapons, but those talks ended until the United States completely abandoned North Korea's nuclear program. The US refuses to lift sanctions.
According to North Korea's state news agency, several Guan, an experienced diplomat and have been part of a number of negotiated arms talks, have said Pyongyang will not abandon its nuclear installations in exchange for a partial easing of sanctions.
He said, "It is possible to resume negotiations between the two countries so that the United States can fully agree on the issues raised by North Korea, but we know that the United States will never be ready nor capable of doing so.'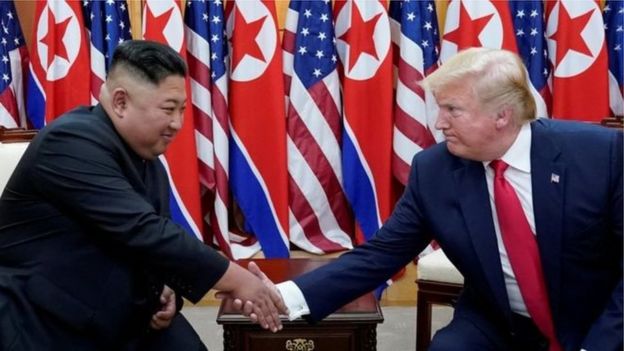 He also said, "Don't want talks like that in Vietnam." At the second summit of Trump and Kim, North Korea offered to abolish the Yong-Beun nuclear complex in exchange for all sanctions imposed on the country. The talks in 2019 ended after US denial.
Earlier this month, Kim Jong-un announced that North Korea would suspend its tests on nuclear and long-range ballistic missiles and would soon introduce 'a new military weapon'. But he kept the door open for talks, saying that "any experience would depend on American behaviour."
North Korea has carried out several experiments with small arms in the year 2019, which has been viewed in the context of pressure on the United States.
Many have also confirmed that North Korea received a personal letter of congratulations from Donald Trump on his birthday, but said he expected to resume talks on the basis of their relationship. Absent cerebral '.
He said, "Although Chairman Kim Jong-Un personally has good feelings about Donald Trump, he is truly personal. We have been deceived by the United States, been involved in negotiations for almost a year and a half, and that was lost time for us. '
Many also cautioned South Korea against trying to act as a mediator between the United States and North Korea. On Friday, a North Korean official said Donald Trump had asked country officials to wish him a happy birthday to North Korea.
Many have said that interference with Kim and Trump's personal relationship was a "dirty" act by South Korea. He also said that there was a 'special communication channel' between the two leaders. The South Korean Presidential Office declined to comment.