The United States and Pakistan are on the issue of Afghanistan
In the Swiss city of Davos, Pakistani Prime Minister Imran Khan said during a meeting with US President Donald Trump that the US and Pakistan are on the same page on the Afghanistan issue and they want to resolve the peace, Taliban and government issues in Afghanistan. ۔
While President Trump once again offered to do his part in resolving the Kashmir dispute and said that he would discuss the Kashmir situation during his meeting with Imran Khan and the assistance he could provide on the issue between Pakistan and India. They will.
The two leaders are present to attend the World Economic Forum (WEF) in Davos where they met in a welcoming atmosphere.
Prime Minister of Pakistan Imran Khan Media Talk with US President Donald Trump at World Economic Forum, Davos, Switzerland (21.01.20)#PrimeMinisterImranKhan #Pakistan 🇵🇰 #USA 🇺🇸#Kashmir #WEF20 @ImranKhanPTI pic.twitter.com/5GiRjidvss

— Prime Minister's Office, Pakistan (@PakPMO) January 21, 2020
On this occasion, President Trump said that Imran Khan was a friend of mine and was glad to meet him again.
He further said that Pakistan and the United States have good relations while the two countries have never been so close before.
During a joint meeting with the media before the official talks, Prime Minister Imran Khan also said he was happy to meet President Trump again.
Prime Minister Imran Khan said that Pakistan wants peace in the region and will continue to play a role for peace and stability in the region and in this regard the US President will also discuss the Afghan peace process.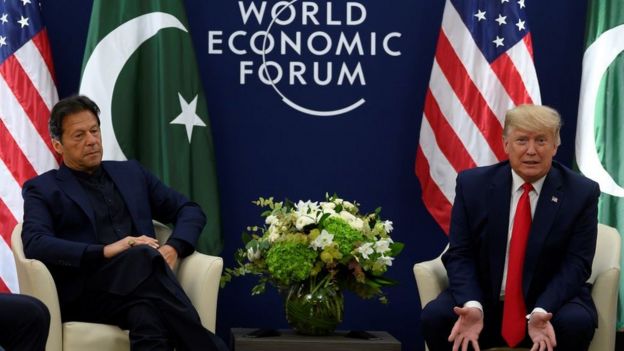 Talking about relations with India and Kashmir, Imran Khan said he hoped that the US would play its part in resolving the issue.
Foreign Minister Shah Mehmood Qureshi accompanied by Imran Khan, Advisor to the Prime Minister of Trade Abdul Razzaq Dawood, Assistant Special Assistant to the Overseas Pakistani Zulfiqar Bukhari and Assistant Special Assistant to National Security Dr. Maid Yusuf are also travelling with him.
On the occasion of the World Economic Forum, Prime Minister Imran Khan will hold informal meetings with other world leaders besides US President Donald Trump and will also address a special WEF session.