Saudi troops trained in US evacuation
About a dozen under-trained soldiers from the United States are being sent out of the United States after an FBI investigation.
According to the US television channel CNN, US Defense Department Pentagon officials have reviewed the training program of Saudi Air Force officers and decided to expel them from the United States.
On December 6 last year, one of the unarmed Saudi military students shot and killed three US Navy personnel at a US Navy training airport in Florida.
According to CNN, the officers who are being expelled from the United States have not been accused of assisting their shooting partner.
Saudi Arabia's twenty-one-year training officer was a Second Lieutenant and killed three US Navy personnel at Pensacola's base in Florida.
The deceased US official allegedly mocked Saudi military student Second Lieutenant Muhammad Saeed al-Shamrani, whose appearance resembles a full-fledged film actor.
According to the American newspaper The Washington Post, the US Investigation Agency's FBI (Federal Bureau of Investigation) linked these under-trained Saudi military officers with extremist ideas, child pornography, and the mental inclination of a colleague. Connected to events.
The FBI is now investigating the shooting death of a Saudi military officer under terror laws.
The change in the investigation came when the FBI learned of this Saudi military officer's social media exchange of anti-US views.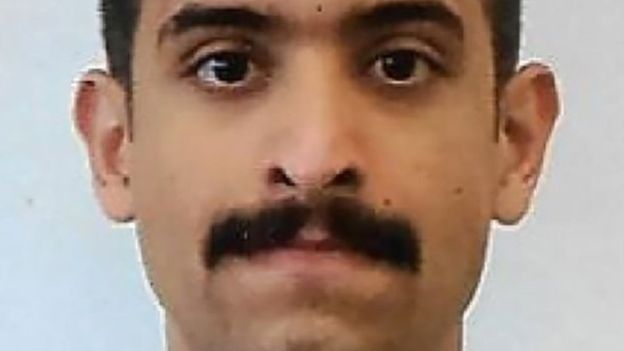 The Saudi officer was ridiculed for imitation of a pornography actor.
According to the Washington Post, an official on the condition of anonymity said several of the trained Saudi military officers found the content of child pornography, while several others supported extremism on social media. Conversations watched.
Both the US Department of Justice and the FBI have declined to comment on the news.
But Lieutenant Colonel Robert Carver, a spokesman for the US Defense Department, said that "the program of foreign military students is being revised in the background of the tragedy of Pensacola, and the activities of Saudi officers have been restricted to the classroom." Is. The training program is currently suspended. '
The US Department of Defense announced on the 10th of last month that it is suspending the training program of officers trained by Saudi Arabia following the Pensacola incident.
On the 19th of last month, the Pentagon also announced that they had received no indication of any danger after 850 Saudi military students reviewed the training program in the United States.
The FBI has said that its investigators say that the second lieutenant of the Saudi Air Force was not part of a conspiracy and that he fired his own shot.
Saudi officer Mohammad Saeed al-Shamrani was shot dead by the deputy sheriff shortly after the December 6 incident.