Protests against US President Trump will begin on Tuesday
US House of Representatives has approved a resolution to run President Trump's motion in the Senate. The votes in support (228) and opposition (193) of this resolution were cast according to party seats in the lower house.
The House of Representatives Speaker Nancy Pelosi signed the draft Articles, along with members of the Democratic Party who would play a role against President Trump in the Senate.
Last month, the House of Representatives, where the majority of the opposition Democratic Party approved President Trump's motion.
Now the Republican Party-majority Senate has to decide whether to remove him from office.
Addressing a press conference before signing motion articles, Nancy Pelosi said, "Today we are making history. When managers cross the hall, we will go through a turning point in history, sending arbitrary articles against the president of the United States for abuse of powers and interference with the work of the House of Representatives. '
Subsequent articles to the Senate were sent to the Senate, where Republican Senate leader Mitch McConnell said he would be drafted Thursday afternoon and read them in the upper house.
He said the trial will begin on Tuesday. President Trump is accused of abusing his powers and obstructing the work of Congress.
President Trump denies the allegations. He says he did not pressure the head of Ukraine during a phone call July 25 last year to open investigations against his potential Democratic rival Joe Biden.
In the past, there have been prosecution proceedings against two US presidents, Andrew Johnson and Bill Clinton, while Richard Nixon, the third president, resigned before the start of the motion.
No president in US history has been forced to step down as a result of the prosecution.
New traditions are emerging in the ongoing inquiry against President Trump. This will be the first time the president has refused to cooperate with the House of Representatives.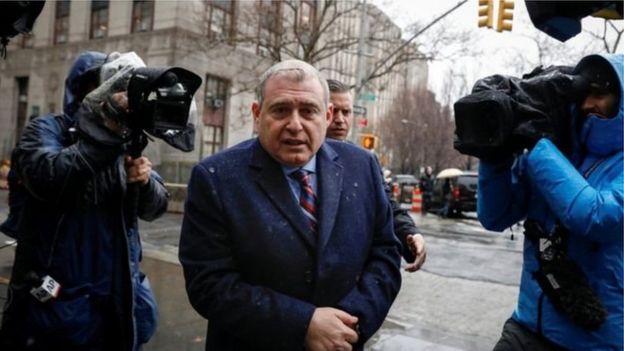 Leo Prensa, an adviser to President Trump's lawyer Rudy Giuliani, said this in an interview to MSNBC.
According to US Democratic experts, the prosecution of President Trump is unlikely to succeed.
The president's motion requires that two-thirds of the members vote in support of what is unlikely, and thus the action will be stopped.
President Trump knew everything
An adviser to President Trump's lawyer, Rudy Giuliani, claims that President Trump was rightly aware that Ukraine was being pressured to investigate against former US Vice President Joe Biden and his son.
Rudy Giuliani's adviser, Leo Prensa, said this in an interview to MSNBC.
Leo Prensa also faces separate charges in this regard. He says Rudy Giuliani, who was not investigating Biden's alleged corruption.
According to him, these efforts were aimed at harming President Trump's potential Democratic rivals. Leo Prensa has forwarded messages between himself and Rudy Giuliani as evidence in connection with the allegations.